A profoundly moving début novel about the fragility of family love, the resilience of the living, the durability of memory and the experience of bereavement.
August 1924. John Conrad arrives at his parents' home on the outskirts of Canterbury, where family and friends are assembling for the bank holiday weekend. His crippled mother has been discharged from a nursing home, his brother drives down from London with wife and child. But as the guests converge, John's father dies.
Today follows the numb implications of sudden death: the surprise, the shock, the deep fissures in a family exposed through grief. But there is also laughter, fraud and theft; the continuation of life, all viewed through the eyes of Lilian Hallowes – John's father's secretary – never quite at the centre of things but always observing, the still point in a turning world.
Today is a remarkable début, an investigation of bereavement, family and Englishness, beautiful in its understatement and profound in its psychological acuity.
". . . No, it is impossible; it is impossible to convey the life-sensation of any given epoch of one's existence—that which makes its truth, its meaning—its subtle and penetrating essence. It is impossible. We live, as we dream—alone. . . ."
Praise for "Today"
"A sly chamber-piece of a novel…. Miller offers a psychologically convincing portrait of grief, one that – like much of Conrad's own work – suggests the barrier between civilisation and the void is paper thin.  An impressive début distinguished by its spot-on period detail.
Financial Times, 19 March 2011
"David Miller, in this debut novel, approaches the big subject of Conrad with sensible and admirable caution….   Little is said in an outright manner, so we are drawn into the text, and even put to work imagining subtexts.  Wriing in this way is a risk but, in this case, one worth taking.  And when the author gets it right, which is often, the effect is very impressive. Perhaps even close to triumphant."
Irish Examiner
"A subtle first novel….    Its unsensational account of bereavement deserves a wide audience.  The restrained prose adds bite to Miller's sparing use of simile."
The Daily Telegraph, 26 March
"Miller's slim, quietly elegiac novel on the death of Joseph Conrad in August 1924 is, despite elements of pastiche, compelling. Miller assumes the style not of his subject, but of novelists of the period, in particular EM Forster, whose A Passage to India had recently been published and is referenced throughout. Conrad's rasping final hours in his country house near Canterbury are played out off-stage, muffled, yet acutely felt."
The Guardian, 26 March 2011
"Today resembles a television drama… A sparse, taut novel… Genuinely moving."
The Spectator, 5 March 2011
"Curious and compelling."
The Times, 6 March 2011
A "powerful book…. This is a book that through glances and small observations keenly makes real the confusion and anger that grief brings and the family fissures… Miller, a literary agent, has revealed himself as a first-class writer. Today is moving and simple – a great book.
The Big Issue, 7 March 2011
"Miller's debut packs an emotional, historical punch befitting a much larger canvas."
Daily Mirror, 11 March 2001
"This is a gloomy little book."
Daily Mail, 11 March 2011
"Confidence in the evoking of mood and in staging the comings and goings of its large cast, and clarity in dramatisation of themes and characterising of central players, are only the most prominent of this book's many qualities… There is more than a hint of [Penelope] Fitzgerald's crisp classicism in the cool-water purity and freshness of Miller's prose…. Miller does terrific things with language, but not blindly… There is, after all, a world of difference between the language favoured by social custom and the language of literature, as this novel shows."
New Statesman, 11 March 2011
"A touching investigation of bereavement and loss in a world where understatement and controlling emotions were paramount… It is a remarkable achievement that this excellent novel leaves you thinking long after you close the covers."
Liverpool Daily Post, 18 March 2011
The final goodbye to my father
My father's death was unexpected, and sitting in the hospital beside his body, I felt stunned and frozen (The Guardian, Saturday 23 April 2011)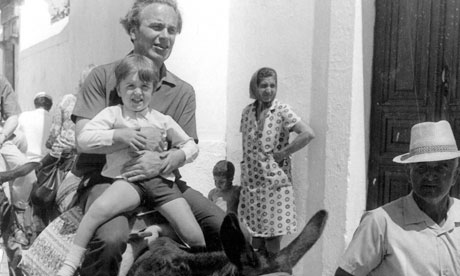 Three years ago, after returning from a holiday abroad to celebrate my father's 72nd birthday, my mother called me to say they had had a good time, but that Dad wasn't really himself. My sister had joined them as a surprise and she also told me that he wasn't quite right – a bit snappy, irritable.
The February half-term was close: my wife and children had planned to go away, leaving me to catch up on some work, but my mother suggested it might not be a bad idea to fly up to Edinburgh to see my father. There was, in retrospect, an air of anxiety around the conversations she, my sister and I had then. When I called to say I had booked to come up, and when my father answered and heard that I was arriving early morning on the Thursday, he simply said with a warm chuckle: "There's no need to bother yourself – I'm not dying yet." They were, essentially, the last words he said to me.
I had searched to find a flight that didn't cost more than £300. But the only way up to Edinburgh that was financially sensible was the overnight bus, something I hadn't used for 20 years. Coupled with that was the fact that I had a work dinner arranged near Victoria, so I scheduled my life around the departure of the bus from the nearby coach station at 11pm. (read more)